This is my take on Queen Marchesa.
The objective and idea of the list is to shake up those passive; sweeper heavy games which are often won by whoever hoards their resources the most and interacts the least.
The list aims to accomplish this by using and to keep the board interesting and full. These cards are almost exclusively used post creature sweep.
Of course a full board is almost as useless as a empty board if everyone sits around twiddling their thumbs. To ensure those passive players come out and play; the list runs some encouragement cards ala , and the all-mighty .
The risk of forcing anyone to come out and play though is that they make the wrong decision of coming out and
only
playing with you! For these people, we kindly run a solid set of cards that carry signs saying "go way, nothing fun to play with here" and/or "turn around, danger ahead".
Here is the list:
40 lands, 9 Artifact Accel, 26 Creatures, 25 Spells
Sorted by card type & CMC:Sorted by effect, broad type & CMC:Commander: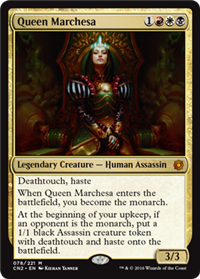 Force attacks:
(assists above with tapping creatures)
Deflect attacks:Finishers:Recursion:Draw:Tutors:Spot Removal:Sweepers:Anti-sweepers:Graveyard hate:Artifact Accel:Lands:
3
3
3