Hello!
Narset was one of
those
for me. The general that I wanted to build around the moment I saw her spoiled. And build around her, I did. Card names kept surfacing in my mind and a deck crystallized before me as if by itself. Couple of goldfishing sessions later, I'm able to present the first working version of my Narset and the first deck steered by a Khans of Tarkir general on the forums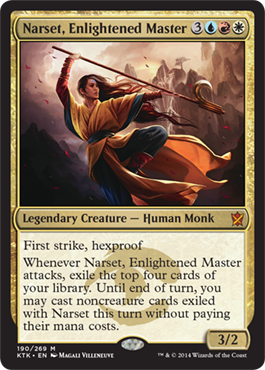 First off, let's get the stuff we want to cast off Narset's trigger on top of the library:
TOTAL: 12
Then we need more triggers. I intentionally drew the line between additional combat phases (in) and extra turns (out):
TOTAL: 8
Now, what do we actually want to cast for free? There are several options to go and I've decided to let the deck have some versatility in its wincon slots:
TOTAL: 13
TOTAL: 5
TOTAL: 11
A proper lady of war should, in fact, be hasteful:
TOTAL: 4
And finally a few cards to allow ourselves to bypass those silly timing restrictions:
TOTAL: 3
Now to speed things up a bit:
TOTAL: 13
Important lands:
TOTAL: 3 (+27 other lands)
NOTE: The deck is still WAY under construction, but it's playable and can be explosive even in this unpolished state. Needs more haste, more dragons and more testing. Updates will follow in time.