"Tasigur, Go.dek" or I was building a deck for a local League and found a Golden Fang.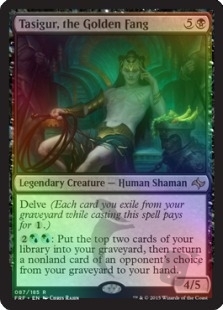 Tasigur, This Guy's Fantastic, I'm normally not a fan of 6cmc Generals... But his activated ability just had to be built around... as an outlet for infinite mana~!
Deck is currently focused around ramping as much as possible for 3 turns, use a tutor for either protection or combo piece and playing out from there.
And, to my surprise - diverse
Rout
es to victory. So enough preamble, here's the list
And a http://tappedout.net/mtg-decks/tasigur-go/ incase you are so inclined.
So what's the decks gameplan? To be mid-range combo.
The orginal plan was
Notion Thief
+Wheels+
Waste Not
=Broken, we didn't get too far into that plan, our only real wheels we found on the floor were
Dark Deal
s and
Windfall
... So what else did we find? Palinchon+
Zendikar Resurgent
= Win the game, a similar trick can be performed with
Crypt Ghast
but the
Swamp
requirements sometimes demands
Urborg, Tomb of Yawgmoth
turning it into 3 cards or super specific lands
Laboratory Maniac
+
Demonic Consultation
/
Tainted Pact
, Mill Yourself=Win, Whoo-hoo!
Spellcrumple/
Hinder
+
Tunnel Vision
Dirty Dirty wincon if they are not running OG Eldrazi, Tunnel Vision also doubles as a tutor when needed, which is why I'm inclined to keep the synergy although it means my counters are 3cmc.
Ramp+
Blatant Thievery
+4 to 6 ways to recur it =
Filth
y, really really
Filth
y. This represents wrong things like 3-0ing the table for their lands, or
Sol Ring
s,
Twice
, and then you Tasigur and keep trying to get the Thievery back =D The rest of the deck is intended to be recursion/control spells. Ideally
Decree of Pain
would be
Damnation
. I would like to find room for
Wipe Away
or another splitsecond effect.
I like the,
Reclaim
/
Regrowth
/
Restore
package, considering swaping
Reclaim
out for
Riftsweeper
or
Memories Journey
. Included treasure cruise as another way to Exile unwanted graveyard cards.
I'm almost certain I want to add
Deadeye Navigator
and
Phantasmal Image
to Combo with Palinchron, and possible
Peregrine Drake
for redundency. Another combo I considered was
Freed from the Reel
+
Bloom Tender
/
Krosan Restorer
as making infinite mana is probably the most consistant route to victory with a 'draw your deck' commander.
But that's it for a summary, now I just need some critisim, evaluation, and ideas!!!