Meet the Lady: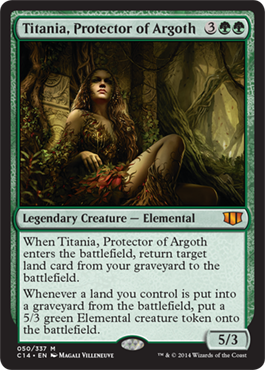 Alright, so, another monogreen ramp.dec? YAAAAWN!
Hold your elementals, ma'am and let me explain: I, too, have at first thought I'm building just a "Tucked Azusa" deck - a ramp where Azusa is present in the 99, but is replaced by something vaguely relevant in the command seat.
Oh, how wrong I was!
Titania is her own niche and I've come to appreciate the design job done on her as I went on to actually test her. Funny thing is, I've built this deck shortly after she was spoiled, but before the rest of her deck was. Then, after full spoiler was up, I saw that a lot of cards I've put in myself are actually present in the original product. My ego took that as a sign that I "got it right" and gave the rest of my mind a thumbs-up.
So, what's different here? Simple thing: regular decks ramp to cast big spells and kill with them. Any general can do that, but Tia is special - she adds value to your lands dying. So instead of the regular path, I want to ramp so I can ravage my own lands with various effects and build an army that way. This lets me play a lot of unusual and otherwise bad cards, which is something that always gets me excited for a new deck idea.
This is the one deck where I find it appropriate to start the list with manabase:
Quote:
18x Forest
Yep, only
ten
fourteen
eighteen Forests in a monogreen EDH deck. Let's see the rest:
Quote:
As you can see, a lot of those lands tend to...not last for a terribly long time on the battlefield. I'm especially happy I can finally play
Lotus Vale
and
Scorched Ruins
- I've been a fan of these lands for a long time, but usually it's difficult to justify their inclusion in a deck. Usually
If the lands for whatever reason don't want to die by themselves, we need some...persuasion:
Quote:
I count Kamahl and other land-animating effects as effective sacrifice. I think I don't have to go deeper into that
All this naturally leads to the need to recur the pieces of the scenery back:
Quote:
Of course, being in green and working with lands, we want to ramp:
Quote:
Some ramp cards, like
Harrow
, have already been mentioned before, as they serve a beautiful double function in this deck. Next, we need cards. Lots of cards:
Quote:
Add a little support for the army:
Quote:
Finally, let's get rid of some pesky permanents:
Quote:
The basic plan is clear: ramp, cast Titania, sac lands, make tokens, kill. A lot of the cards have a very neat synergy with the Elemental Lady. If I kill three of my own lands with
Terastodon
, I'm looking at total power 33, divided into 7 creatures.
Tectonic Edge
and friends are just nuts when they leave a 5/3 body behind.
Glacial Chasm
just keeps on giving.
Concordant Crossroads
can make for an on-the-spot kill with the right setup. And with Tia and
Nature's Revolt
on the board, I DARE anyone to wrath

_________________
I could be wrong. I'm just not in the mood.


tempesteye wrote:

In my early teens I was a Timmy.
In my late teens I was a Spike.
In my 20's I was a Johnny.
Now, I just like to play.

'Active decks' list here.
Currently hiring servants for my palace, made from my own walls of text.